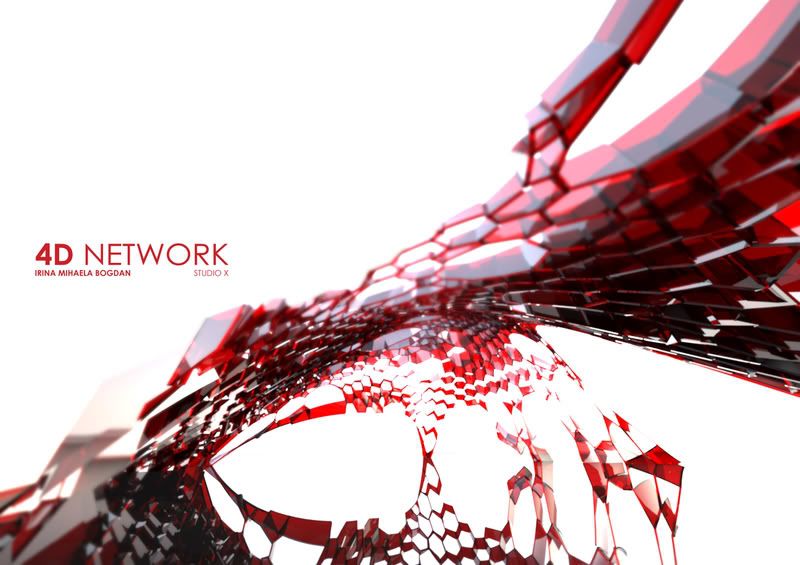 I have looked upon factors that actually determine the dynamics of networks and i have chosen a few basic concepts:
action/reaction concentration/dilution attractive forces/repulsive forces
Starting from these basic concepts i have began my study by questioning and modifying these rules as a parallel to the on going global changes that are affecting, changing and distorting our historical reference points and our points of view.
Using Processing, a JAVA based software, i created a honeycomb mesh.
Step two was to apply attractive and repulsive forces on this mash. This generated a number of different force field diagrams.
After analysing them i have compared the results and chosen a general pattern and then i created this last force field diagram that i used in planning my pavilion.
To express the times we are experiencing right now, the changes of perception, detaching from former customs, reiterating habits, basically reediting our points of view and creating new reference points, i have cut the mesh in different points in order to see the result. The new stitches are yet to be developed if needed. If not then these newly developed "cutouts" shall evolve and live as new organism. These new organisms shall probably function under new rules and they shall create their own system of existence.
I basically shaped the 3D model of this network by applying the spatial distorting forces on the z axis.
The only left out factor right now is the physical interaction between the network and the human being. To be able to interract and addapt to any given scenario i have thought of creating this honeycomb 3D mash/network out of polycarbonate and circuits of optical fibre. If needed, a photosensitive surface can be attached to the 3D network and along with the optical fiber connection, patterns shall be generated on the surface of the canopy.